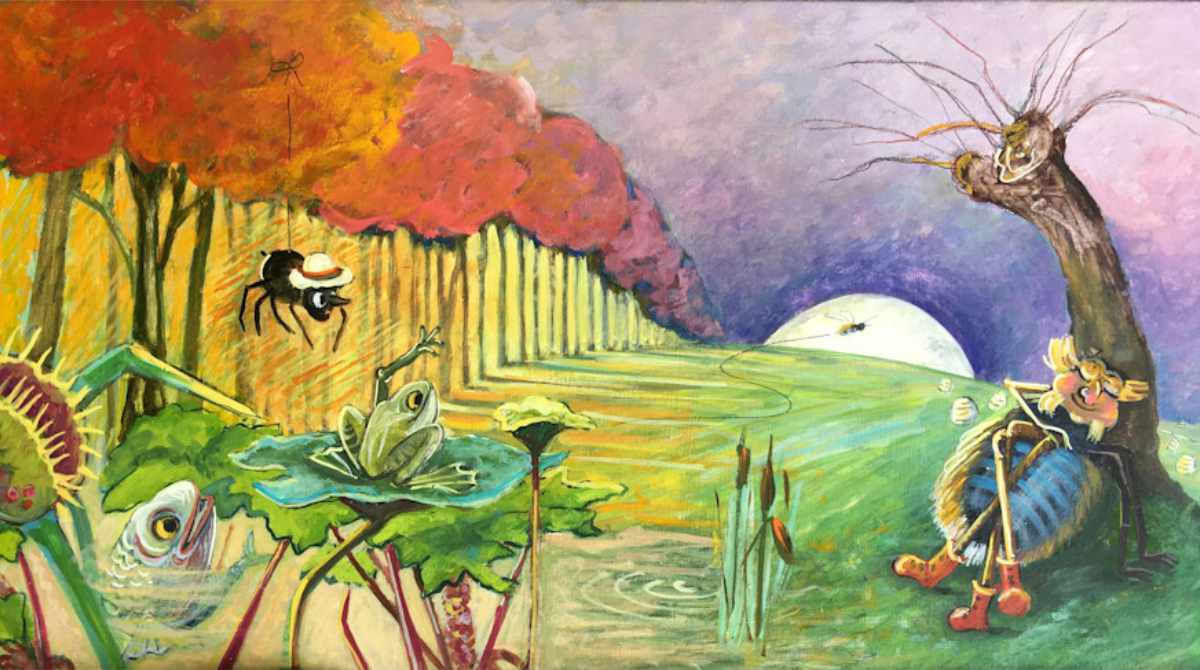 ---
---
Telling Tales – Exhibition
Details
Telling Tales! – 4th December 2020-13th February 2021
Now open post-lockdown from 4th December-13th February
Come and see 'About a Bee', Or fish for Ivor in the sea!

Then sing along in seaside rhyme, And learn how seagulls spend their time!.

Carolyn King
Pictures, words and whimsy created by author and illustrator Carolyn King for About a Bee, Along Came a Seagull and The Fish Lizard of Lyme.
The Lyme Regis Museum is open Wednesday till Saturday from 10am until 4pm. Admission fees apply. Masks and social distancing are obligatory, and numbers are controlled. Essential to book in advance.
---
Location
Please note, this event does not have a physical location, please check description or contact the event organiser for more information.
---
Other Events near this Venue/Location
4th Dec 2020 - 13th Feb 2021 - | 10:00am - 4:00pm

,

Rapunzel - Grown Up's only Christmas Pantomime 2020

29th Dec 2020 - 29th Jan 2021 - | All Day

Weymouth Pavilion, Weymouth

Rapunzel - Relaxed Performance Christmas Pantomime 2020

29th Dec 2020 - 29th Jan 2021 - | All Day

Weymouth Pavilion, Weymouth

Online Hatha Yoga - 19th January

19th Jan 2021 - | 9:30am - 10:45am

,

Restorative Yoga Session - 19th January

19th Jan 2021 - | 7:30pm - 8:30pm

,

20th Jan 2021 - | 10:30am - 11:30am

,

Shared Reading hosted by Ferndown Library

20th Jan 2021 - | 2:00pm - 3:00pm

,

Friday's Peaceful and Easeful Yoga - 22nd January

22nd Jan 2021 - | 9:00am - 10:00am

,

Dynamic Vinyasa Yoga - 22nd January

22nd Jan 2021 - | 10:30am - 11:30am

,

23rd Jan 2021 - | 10:30am - 11:30am

,

Burns Night (music and ceilidh) at Kingston Country Courtyard

23rd Jan 2021 - | 8:30pm - 11:30pm

Kingston Country Courtyard, Corfe Castle

Online Hatha Yoga - 26th January

26th Jan 2021 - | 9:30am - 10:45am

,

Restorative Yoga Session - 26th January

26th Jan 2021 - | 7:30pm - 8:30pm

,

An evening with John Stockley - part 3

27th Jan 2021 - | 9:00am - 6:00pm

,

27th Jan 2021 - | 10:30am - 11:30am

,

Shared Reading hosted by Ferndown Library

27th Jan 2021 - | 2:00pm - 3:00pm

,

Friday's Peaceful and Easeful Yoga - 29th January

29th Jan 2021 - | 9:00am - 10:00am

,

Dynamic Vinyasa Yoga - 29th January

29th Jan 2021 - | 10:30am - 11:30am

,

30th Jan 2021 - | 9:30am - 4:00pm

Ancient Technology Centre, Cranborne

30th Jan 2021 - | 10:30am - 11:30am

,

---

Disclaimer: Event details are believed to be correct at time of publication. Please check with the event organiser if you have any questions.
If you believe an event is incorrect or no longer happening, please let us know.

---

Listing Nearby