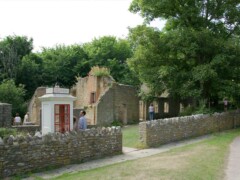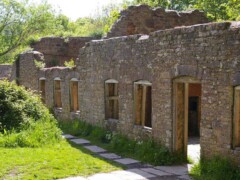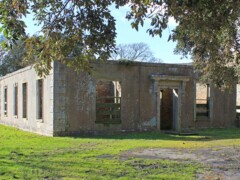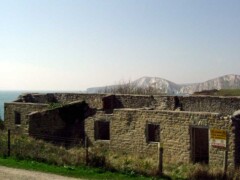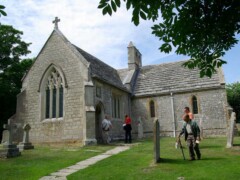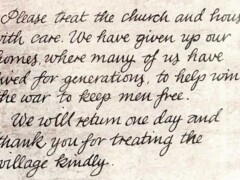 Description and Information
Tyneham is a ghost village on the Isle of Purbeck, Dorset.
The village and 7,500 acres of surrounding heathland and chalk downland around the Purbeck Hills were requisitioned just before Christmas 1943 by the then War Office (now MoD) for use as firing ranges for training troops.
225 people were displaced, and the last person leaving left a poignant notice on the church door:
Please treat the church and houses with care; we have given up our homes where many of us lived for generations to help win the war to keep men free. We shall return one day and thank you for treating the village kindly.
The requisition was supposed to be temporary for the duration of World War II, but in 1948 the Army placed a compulsory purchase order on the land, and it has remained in use for military training ever since.
Although littered with scrap used as targets and subject to regular shelling, the land has become a haven for wildlife as it has been free from farming and development.
In 1975 after complaints from tourists and locals, the Ministry of Defence began opening the village and footpaths across the ranges at weekends and throughout August. Many of the village buildings have fallen into disrepair or have been damaged by shelling and in 1967 the then Ministry of Works pulled down the Elizabethan manor house, though the church remains intact, and has a stained-glass window by Martin Travers.
The church and school house have since been preserved as museums and in 2008 Tyneham Farm was reopened to the public and conservation work there is ongoing.
In 1985 the village was used for the filming of Comrades, which depicts the story of the Tolpuddle Martyrs. The church had a fibreglass tower and large additional gravestones, and Post Office Row was fronted with fibreglass cottages. During the filming, Tyneham's original 1929 K1 Mark 236 telephone kiosk was destroyed, and the film company sourced a replacement.
The village was also the setting for the climax to the comic-thriller Angel's Share by Mike Ripley (2006).
Today, Tyneham is open to the public and can be visited most weekends throughout the year (see opening times below). There's a large car park (£2 suggested donation), which is a good place to start when exploring the Jurassic Coast or walking to Worbarrow Bay.
More information and History.
Tyneham village is one of Dorset's most interesting tourist destinations.
Before the war Tyneham was a bustling village. Now it has been deserted for over 60 years.

When is Tyneham village open?
The exhibitions in Tyneham Church, Tyneham Farm and Tyneham School – 10am to 4pm
Gates to the range walks – 9am Saturday to 8am on Monday (see Gate Notes below)
Elmes Grove gate (allows vehicle access to Tyneham Village) – daily 9am to dusk (approx. 9pm)
---
Opening Times 2023
Lulworth Range walks and Tyneham village are open to the public EVERY WEEKEND during 2023, except for the following — updated 7th November 2022
18 to 19 February 2023

– CLOSED



11 to 12 March 2023

– CLOSED

17 to 18 June 2023

– CLOSED

23 to 24 September 2023

– CLOSED

7 to 8 October 2023

– CLOSED

18 to 19 November 2023

– CLOSED
Lulworth Range walks and Tyneham village are also open every day over the following periods (all dates are inclusive):
Christmas: 17 December 2022 to 22 January 2023
Easter: 1 to 16 April 2023
Bank Holiday: 29 April to 1 May 2023
Spring stand-down: 27 May to 4 Jun 2023
Summer stand-down: 27 July to 3 September 2023
Christmas: 16 Dec 2023 to 1 Jan 2024
---
Gate Notes: On conclusion of weekday firing, the gates to the range walks are opened as near as possible to 4.30pm on the Friday afternoon. However, this is dependent on completion of range clearance and weather. The range walks usually remain open until 8am on the Monday morning.
Lulworth Range Walks and Tyneham Firing times:
Red flags are flown and lamps are lit during live firing times at the Lulworth Ranges. There is no access to the live firing range danger area at these times.
Important Note, The opening dates and firing times are subject to last-minute change. Please phone 01929 404714 to listen to an answering machine that will give up-to-date access information to callers.
Updated: 7th November 2022
Tyneham Ghost Village - Location
Tyneham Village, Wareham BH20 5QF