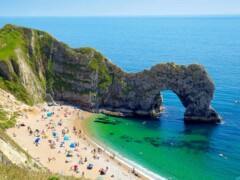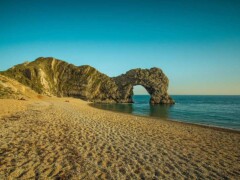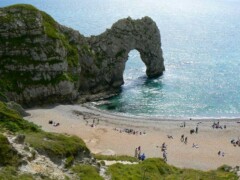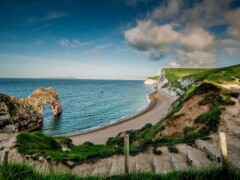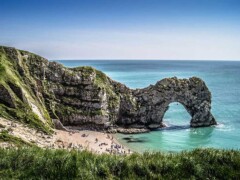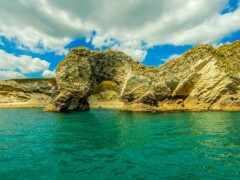 Description and Information
Durdle Door, Lulworth, Dorset
Admired for its stunning beauty, Durdle Door is one of the most iconic attractions of Dorset's Jurassic Coast. The fascinating limestone arch reaches up to 80 feet high and provides spectacular views and plenty of photo opportunities. Acting as a gateway to the area's breathtaking scenery – it is no wonder that this natural wonder is so popular with visitors.
Durdle Door (sometimes written Durdle Dor) is a geographical wonder and possibly one of Dorset's most iconic attractions! The natural limestone arch on the Jurassic Coast near Lulworth Cove attracts thousands of visitors each year.
The only access to the pebble and shingle beach is on foot via the path and steps over the hill from Lulworth Cove (approx. 1 mile) or from the nearby Car Park (charges apply, see below) located on the cliff top near the Durdle Door Holiday Park. From the car park, there is still a good 15-minute walk along a steep downhill path, plus a further 140+ steps down onto the beach (notes: trainers or walking boots are needed for this walk, flip-flops are not recommended!).
Swimming and bathing are possible, however the beach drops away steeply in places. There are no lifeguards at Durdle Door, so please supervise your children at all times.
There are no rubbish bins on the beach, therefore all visitors should take their rubbish home with them.
Barbecues and fires are not permitted at any of the beaches or grassland areas on the Lulworth Estate. Overnight camping is not permitted on beaches, clifftops, or elsewhere (apart from pre-booked camping at the Durdle Door Holiday Park).
If you have never visited Durdle Door before and want to know what facilities are available and how to get to the beach from the car park, you can watch this short video on Facebook.
Safety: Walking boots or trainers are needed for the walk to and on beaches. Bathing can be dangerous. The beaches drop away steeply and there is a strong undertow. Take care on the shoreline because sudden large waves can engulf persons at the water's edge – this has caused fatalities. Do not sit near the cliffs – danger of rockfalls.
Lifeguards: There are no lifeguards at Durdle Door.
Toilets: There are no toilets on or adjacent to the beach. Toilets are only available in the Holiday Park, a 15-minute walk uphill from the beach.
Accessibility: Durdle Door beach is accessed by a steep path and steps – not recommended for wheelchair users, mobility scooters, or those who have mobility problems. From the car park, there is a 15-minute walk to the viewpoint and then another 140+ steps down onto the beach. Views of Durdle Door are not possible from the car park. Accessible toilets are located at Durdle Door Holiday Park car park.
Parking: A large car park is accessed via Durdle Door holiday park, and it is a 15-minute walk down a steep path then steps to the beach. Visit the Lulworth Estate website for further information.
Pay on arrival (prices correct as of July 2022)
All Day Parking (until dusk) – £10.00
Up to 4 hours – £5.00
Oversize vehicles (Above 5.5m and up to 16 seats) – £15.00
Motorcycles – £1.00
The car park opens at 9am
No coaches are permitted past the main gate at Durdle Door. Coaches can turn at the turning point, but there is no waiting permitted. Coaches must park at Lulworth Cove.
Card payments only, or use the JustPark App.
Tickets purchased on the machines at Durdle Door Standard car park are also valid at Newlands Meadow, Lulworth Cove, and Lulworth Castle.
Dogs: Dogs welcome all year off lead, however, please be sure to pick up after them.
Visiting Durdle Door? Be sure to share and tag us #inDorsetUK @inDorsetUK in your social media photos.
Stay safe, respect the places you visit and follow the Countryside Code.
Durdle Door, Dorset, West Lulworth BH20 5PU