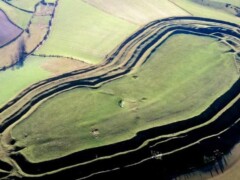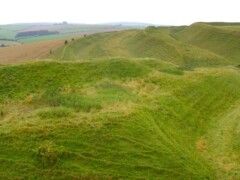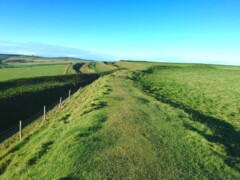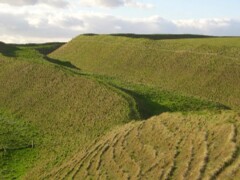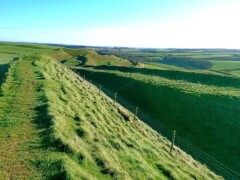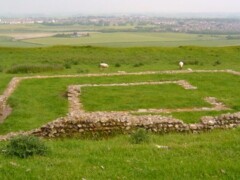 Description and Information
Maiden Castle, the famous Iron Age Hill Fort, Dorchester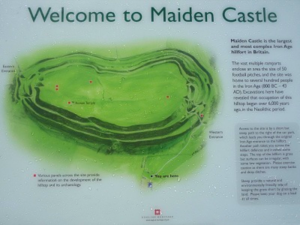 Maiden Castle is an Iron Age hill fort just under 2 miles southwest of Dorchester. The name Maiden Castle may be an anglicisation of the celtic 'Mai-Dun', meaning a "great hill." Although the monument is classed as an Iron Age hill fort, it has provided archaeological evidence from the Neolithic with a causewayed enclosure and bank barrow. It is also thought that the site was used during the Bronze Age, for growing crops before being abandoned.
The main ramparts forming Maiden Castle were built in about 600 BC; the early phase was a simple and unremarkable site, similar to many other hill forts in Britain and covering 6.4 hectares (16 acres). Around 450 BC it underwent major expansion, during which the enclosed area was nearly tripled in size to 19 ha (47 acres), making it the largest hill fort in Britain and by some definitions the largest in Europe.
At the same time, Maiden Castle's defences were made more complex with the addition of further ramparts and ditches. Around 100 BC habitation at the hill fort went into decline and became focused at the eastern end of the site. It was occupied until at least the Roman period, by which time it was in the territory of the Durotriges, a Celtic tribe. After the Roman conquest of Britain in the 1st century AD, Maiden Castle appears to have been abandoned, although the Romans may have had a military presence on the site.
In the late 4th century AD, a temple and ancillary buildings were constructed. In the 6th century AD the hill top was entirely abandoned and was used only for agriculture during the medieval period.
Archaeological investigations
Hill forts were first extensively investigated in the late 19th century by Augustus Pitt-Rivers. However, it wasn't until the 1930s that the first systematic excavation of the interior of a Maiden Castle was carried out . Mortimer Wheeler and Tessa Verney Wheeler conducted a series of excavation between 1934 and 1937, and their work was primarily funded by public donations. Wheeler utilized various media outlets to disseminate information about the site, which made Maiden Castle widely recognised. By 1940, more than 80 hill forts had been excavated across the country during the period known as "hill fort mania" in the 1920s and 1930s.
Car Park and Access
The car park is off Maiden Castle Road, 2 miles southwest of Dorchester.
There is room for approximately 20 spaces with access to the hillfort directly from the free car park. The access lane is too narrow for a coach. 3-4 minibuses could be accommodated, however parking is not controlled.
More information about the Roman Dorset can be found here.
Maiden Castle, Dorchester - Location
Maiden Castle Road, Dorchester DT2 9PP