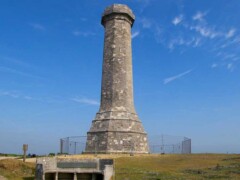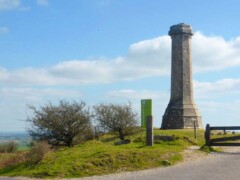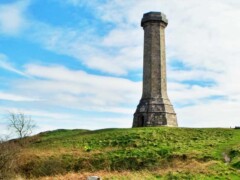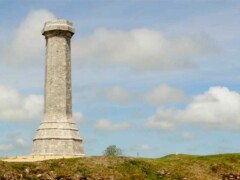 Description and Information
The Hardy Monument is a 72-foot-high (22 m) monument on the summit of Black Down in Dorset, erected in 1844 in memory of Vice Admiral Sir Thomas Hardy, a commander at the Battle of Trafalgar.
Admiral Hardy lived in Portesham and his family owned the Portesham estate which stretched from the middle of Portesham to Black Down. The site for the monument was chosen because the Hardy family who wanted a monument which could be used as a landmark for shipping. The monument has been shown on navigational charts since 1846 and is visible from a distance of 60 miles (97 km).
The monument is situated on Black Down, a hill overlooking the English Channel near Portesham (close to Dorchester and Weymouth), on the road between Abbotsbury and Martinstown. It was restored in 1900 by his descendants and bought in 1938 by the National Trust for the sum of £15.
The monument was designed to look like a spyglass, as Admiral Hardy would have used on board ship. Its eight corners are aligned with the compass points. Viewed from the ground the corner to the right of the lightning conductor points due south. The bench mark on the northwest face denotes the altitude of Black Down at 780 feet (240 m).
From the top of the monument at a height of 850 feet (260 m) above sea level it is possible on a clear day to see the coast from Start Point, Devon to St. Catherine's Point on the Isle of Wight, both of which are 56 miles (90 km) distant. To the north can be seen Pen Hill in the Mendip Hills which is 38 miles (61 km) away.
The monument is regularly opened during the peak seasons, where visitors can climb the 120 steps to the viewpoint at the top.
The heathland area around the monument was designated a Site of Special Scientific Interest in 1984, when the Nature Conservancy Council decided that the geology of the area was very rare.
Adjacent to the monument is a stone seat erected in memory of Lt Col William Digby Oswald who was killed on the Somme in 1916.
Hardy Monument - Location
Black Down, Portesham, Dorset, Dorchester DT2 9HY