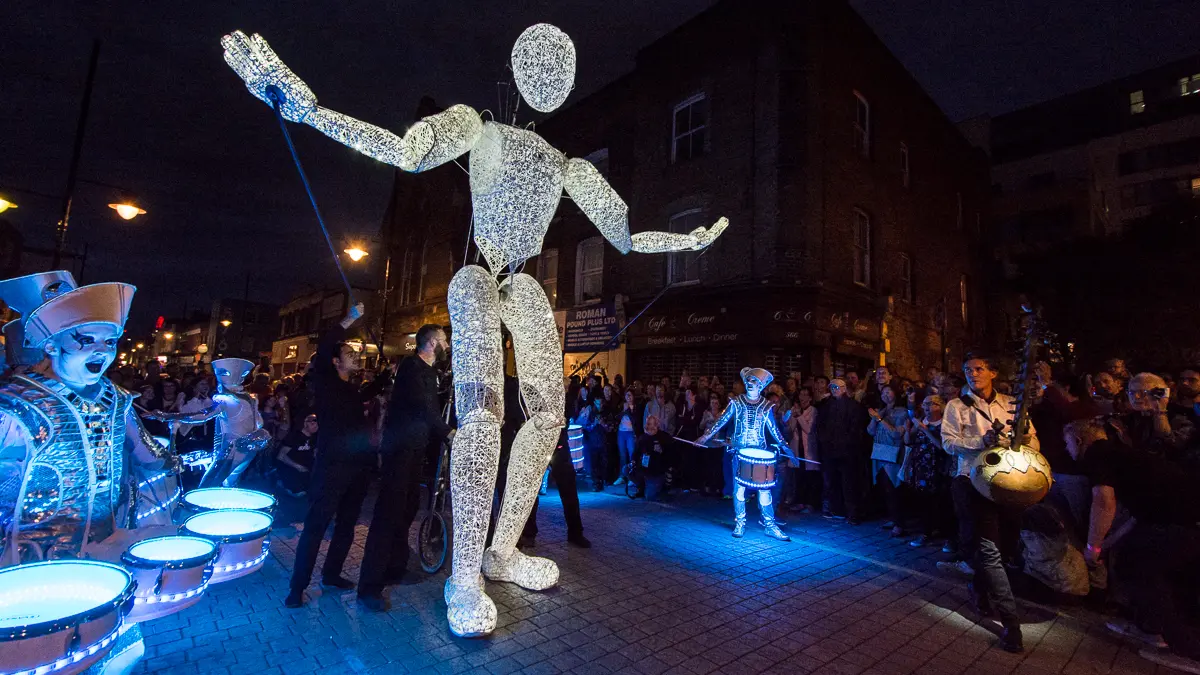 ---
---
Sense of Unity – Weymouth
Details
As dusk falls, follow an illuminated parade through Weymouth and discover the puppets of Baby Dundu and the gentle giant, Dundu. Will they find each other? Will they get on?
You'll hear rhythms and sounds from across the globe. German company, Dundu features West African Kora (a type of harp), while UK-based Worldbeaters bring their dynamic drumming and light show to the performance.
Join the procession in search of the puppets. Lit from the inside, admire the giant puppet's transparent, flexible body as it illuminates against the dark evening sky. Five skilled puppeteers breathe life into the figures as they interact with you. Enjoy dynamic beats and high-energy music. The soundtrack for the evening comes from unique LED-lit drums.
Expect playful puppets and a sensory spectacle as Weymouth experiences the awe-inspiring Sense of Unity.
An accessible description of Sense of Unity can be downloaded at this link
Two performances only: Friday 24 September and Saturday 25 September
Friday 24 Sept : Start at Swannery Car Park, opposite Palm House, end at Jubilee Clock Tower
Map link: https://goo.gl/maps/gX7WRRJF2U4UciDR7
Saturday 25 Sept : Start at St Edmund Street, end at Jubilee Clock Tower
Map link: https://goo.gl/maps/8sxkL1rQcEZiokwD7
Produced by Activate Performing Arts, this is a collaboration between German outdoor puppeteers, Dundu and UK percussion ensemble Worldbeaters. It was originally funded by Arts Council England and developed in Newbury Corn Exchange's 101 Outdoor Arts Creation Space.
Sense of Unity is supported by: Arts Council England, DCMS, Dorset Council, We Are Weymouth, Weymouth BID, Weymouth Town Council, The Embassy of the Federal Republic of Germany, Ashley Family Foundation
Details
Sense of Unity Dundu and Worldbeaters
24–25 September 2021 / Time: 7:30PM – 8:30PM
Location: Weymouth
Price: Free
Duration: 50-60 minutes
Suitability: For all the family
On both evenings, the show will END at the Jubilee Clock, Weymouth Esplanade.
---
---
Location
Jubilee Clock Tower
Weymouth Esplanade, Weymouth, England, DT4 8EA United Kingdom
GET DIRECTIONS
---
Other Events near this Venue/Location
No events in this location
---
Disclaimer: Event details are believed to be correct at time of publication. Please check with the event organiser if you have any questions.
If you believe an event is incorrect or no longer happening, please let us know.
---
Listing Nearby