What's on this weekend | 29th February – 1st March
Keeper of the Castle
Corfe Castle, 29th February – 1st March 10am – 5pm normal entrance fee applies (and other dates).
Meet the 'Keeper of the Castle' who will take you on a journey of discovery through 1000 years.Get ready for lots of fascinating facts, humour and fun.
See Corfe Castle -Keeper of the Castle for more information.
Tomorrow's Museum for Dorset on Tour
February 29th 11am – 3pm, free entry | Lytchett Matravers Village Hall, Vineyard Close, Lytchett Matravers, Dorset, BH16 6DF
In collaboration with Artsreach, Tomorrow's Museum for Dorset on Tour will be bringing the Inflatable Museum to rural communities around Dorset exploring the county's rich history and cultural heritage.
This tour is a great opportunity to bring the experience of visiting the Museum to Dorset's towns and villages offering a free, fun drop-in to learn about the Museums current redevelopment. Take part in engaging activities and handle real objects from our collection including: Archaeology, Natural History, Social History and Fossils. There will be children trails, and our popular 'Make and Create' workshops inspired by the Museum's collections.
See Inflatable Museum for more information.
Mindfulness Meanders
Knoll Beach, Studland 1st March 9am – 12pm
A peaceful morning exploring Godlingston Heath with qualified yoga instructor Anna. Relax into mindfulness exercises along a calming walk through the heath and finish with fresh pine tea and half an hour's yoga at Agglestone Rock
Tickets £20, children over 10 and dogs on leads welcome see Studland Mindfulness Meanders for further information.
Hardys Cottage – Victorian cooking demonstration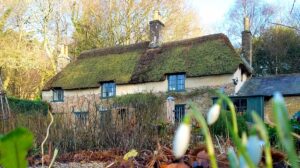 Sample delicious Victorian recipes in Granny's Kitchen made by costumed volunteers. Booking Not Needed.
A National Trust Event – Start 11:00. End 16:00. Free Event but Normal Admission Charges Apply.
Check Hardy's Cottage – Victorian Cooking Demonstration for latest information. Ask the team about any allergens.
Hardys Cottage, Higher Bockhampton, near Dorchester, Dorset DT2 8QJ
Also, next week is the Swanage Blues Festival March 2020 (link for more info)…
Thanks to Caroline @patchfieldfarm for putting together a list of Events and Things to Do in Dorset this weekend.