What's on this weekend – 7th & 8th March
Selection of Dorset Events and things to see and do this weekend.
If you are running an event, you can promote it for Free here on inDorset ~ visit the Add Events page for details.
Wareham Whalers: 'Ships and Shanties' Concert
Location: Durlston Castle, Swanage, Dorset, BH19 2JL
Come along to Durlston Castle on Friday 6th March at 7.30 pm to hear a selection of shanties, sea songs and readings celebrating life at sea. To accompany this will be a display of ships which have been remembered in song. Tickets £6.
More information can be found here Ships and Shanties Concert.
Royal Armoured Corps Display
Location: The Tank Museum, Bovington, Dorset, BH20 6JG
A fantastic opportunity to view some of the tanks and armoured vehicles in action is taking place at the Tank Museum on Saturday 7th March at 3pm. The display will take place in the Kuwait Arena and feature a Challenger 2, Scimitar 2 and a Jackal.
Children aged 16 and under who live in BH, DT, SP or SO postcode areas will have free admission, please bring proof of address. See Royal Armed Corps Display Spring for further information.
Corfe Castle Artisan's Weekend
Location: Corfe Castle, Wareham, Dorset, BH20 5EZ
Come along and join in with Corfe Castle artisan volunteers who will be demonstrating medieval techniques in stone masonry, carpentry and crafts including wattle and daub and cow horn.
Normal entrance fee applies, please see Corfe Castle Artisan's Weekend for further details.
Art Event on Dorset Heath
Location: National Trust Discovery Centre, Studland, Dorset
Explore and learn about the ecology and wildlife supported by this endangered habitat. The day will be run by Joanna Callaghan, artist in conjunction with conservation officers from Butterfly Conservation and Back from the Brink.
This event is free and open to all. Pease contact Joanna Callaghan to book your place or for more information visit Wild at 'Art on the Heath!
Swanage Blues Festival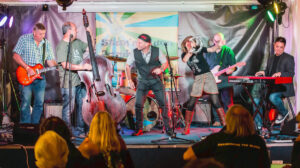 Various venues, Swanage, Dorset
The 33rd Swanage Blues Festival is taking place from 5-8 March bringing together 44 bands with 70 gigs in 18 different venues.
For more information please see Swanage Blues Festival or visit the official website www.swanage-blues.org
Thanks to Caroline @patchfieldfarm for putting together a list of Events and Things to Do in Dorset this weekend.