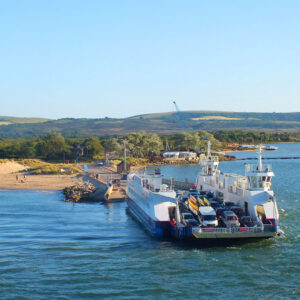 In case you have missed the news, the Sandbanks Ferry reopened on the 27th February 2023!
After almost four months, the ferry service is now running a regular crossing again from Sandbanks to Studland and back. The approx 4 minutes crossing runs 3 times an hour in both directions.
Press statement:

We are delighted to announce that Bramble Bush Bay is returning to service this morning at 11am starting from the Poole side and resuming our normal schedule.

As everyone is no doubt aware we have had numerous delays, the various teams involved have worked tirelessly to ensure that the ferry is ready for service. We have received all the certifications we require to return to service.

Jason du Toit, the Sandbanks Ferry Company's Managing Director, said "We would like to thank all of our staff and contractors for the work that they have put in and our customers for their patience. We understand and share the frustrations of the ferry being out of service. It has been a long and challenging road and we are pleased that we are now returning to service".

Sandbanks Ferry
Timetable:
Sandbanks to Studland
Ferry leaves Sandbanks/Poole side on the hour, twenty past and twenty to the hour.
First Ferry 7am, last Ferry 11pm.
Studland to Sandbanks
Ferry leaves Studland/Swanage side at ten past, half past and ten to the hour.
First Ferry at 7.10am and last Ferry at 11.10pm.
POSTCODES FOR SAT NAV:
Poole/Bournemouth side – BH13 7QN
Studland/Swanage side – BH19 3BA