Great news — The Blue Pool, Nature Reserve & Tearooms are due to reopen at the end of March 2021.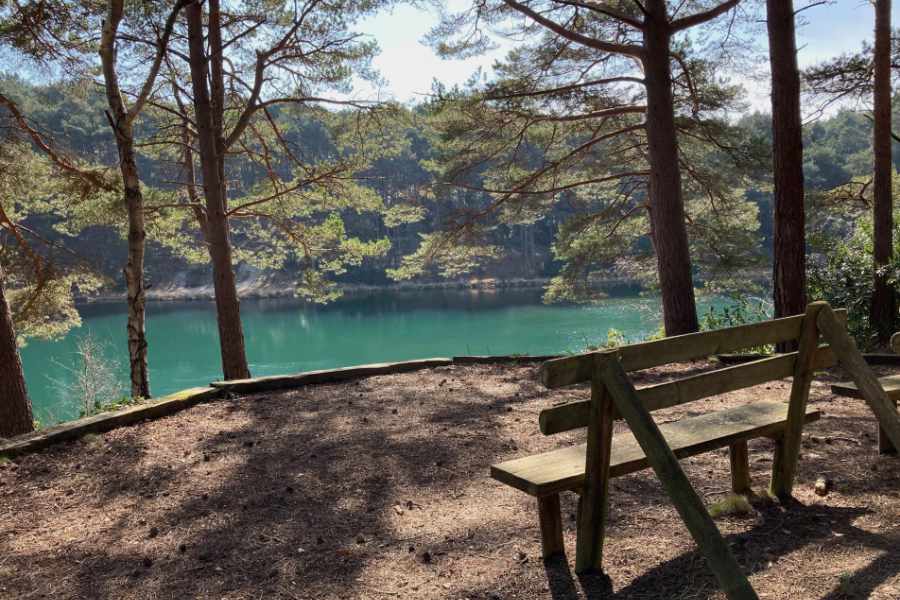 We are delighted to announce that we will be opening on Monday 29th March 2021.

Established in 1935, this local beauty spot has been welcoming visitors from both near and far – for over 85 years! It's beautiful waters, enchanting woodlands and unique heathland make this one of Dorset's true gems!

Sadly, the passing of the late owner, Jennifer Barnard, in September 2020 resulted in an inevitable closure, much to the disappointment of locals and tourists alike. Poignantly, this closure enforced a period of mourning for this much-loved lady, almost as though the Pool itself required a period of mourning to mark her passing.

Jennifer Barnard dedicated her life to The Blue Pool and surrounding Furzebrook Estate – she had a lifelong passion for this magical place.
However, The Blue Pool has now thrown off its cloak of solemnity and truly glistens once again. Local married couple, Matthew and Julie Jones are now delighted to announce that The Blue Pool Nature Reserve & Tearooms will be opening on the 29th March 2021 and that Carolyn Snook will be returning ????

Inevitably, with a new era comes change – but it will be sympathetic.

"The real voyage of discovery consists not in seeking new landscapes, but in having new eyes." Marcel Proust

Why Nature Reserve?
The Furzebrook Estate, encompassing The Blue Pool, is a Site of Special Scientific Interest; its fragile environment received protection from exploitation well before global ecological damage became a public concern. The ecology of the area makes this 200-acre site a haven for unique and interesting species of plants, birds and wildlife, all which thrive within the grounds.

Immediately visible are the herds of free-ranging Sika Deer; look amongst the yellow flowering gorse and spot a Dartford Warbler; gaze through the purple heather and spot a Sand Lizard; Squirrels jump through the treetops and Owls perch in the towering pines, casting a watchful eye.

So, 'Nature Reserve?' We say YES! Why not? Let's celebrate the flora and fauna the beautiful Isle of Purbeck has to offer.

Tearooms
Carolyn and the team will welcome you back into the Tearooms and Gift Shop as soon as restrictions allow – but your safety will be of paramount importance to us.

Normal service will not be resumed until permitted; in the meantime, we will be offering a wonderful selection of hot and cold drinks, locally sourced Ice Cream, carefully chosen coffees and cream teas, pasties, rolls and much more from our take-away Kiosk.

We make this pledge to our visitors: – 'The environmental credentials of all products and produce sold on site will have been thoughtfully considered: Is it local? Is it sustainable?'

Please bear with us; this will not happen overnight! It will take time for us to introduce sustainable energy; time for us to plant; time for us to implement environmental changes which the 21st century both needs and demands. We ask our visitors to embrace these changes and join us on this exciting journey!

'We promise to care for this place with the same love, care and compassion that it has enjoyed over the last near – century; we hope it is enjoyed for a century to come'.

We look forward to seeing you!
Please stay in touch with our progress and visit us: www.bluepooltearooms.co.uk info@thebluepool.co.uk

Statement from the Blue Pool
Opening times and more information about the Blue Pool can be found here.