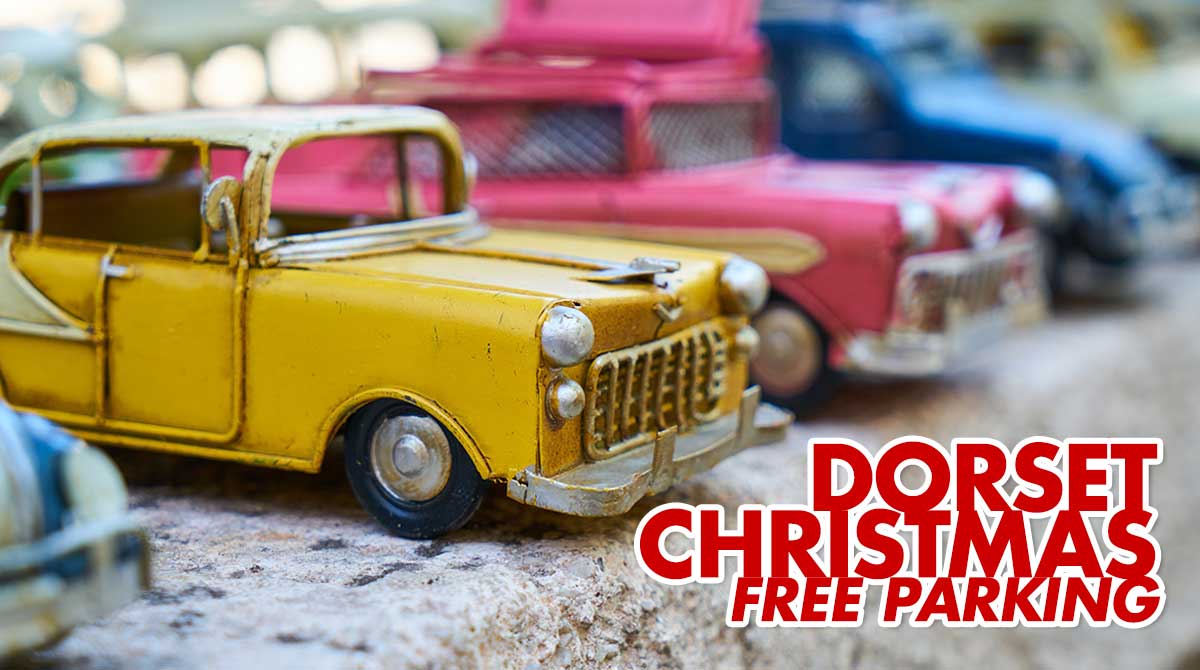 Enjoy free parking this Christmas in Dorset
Check back regularly for location updates
Bournemouth
Free parking is back on Thursday evenings and Sundays from 1st of December.
– Parking is free for cars that enter the car park after 4pm on December 5th, 12th and 19th.
– Free Sunday parking on December 1st, 8th, 14th and 22nd.
Bournemouth Town Centre Car Parks: Richmond Gardens multi-storey, Eden Glen, Central, Richmond Hill, Winter Gardens, Braidley Road Bridge, West Hill, Town Hall Forecourt, Town Hall Extension, Town Hall Annexe and Avenue Road Multi Storey
Boscombe: Hawkwood Road main, Hawkwood Road No. 1 and Hawkwood Road No. 2
Southbourne: Woodside Road
Westbourne: Alumhurst Road, Landseer Road and Milburn Road
Winton: Cranmer Road and Leslie Road
Dorchester
The #Park4FREE Saturdays are available in addition to the normal FREE parking on all Sundays in Dorchester. All Saturdays in December leading up to Christmas (7th, 14th & 21st December) together with Christmas Eve on Tuesday the 24th December will be #Park4FREE days in all Dorset Council run car parks in Dorchester. Please note that the on-street parking will be chargeable as normal, it is just the car parks that are free.
Poole
Residents and visitors shopping in Poole can enjoy free parking in all town centre car parks, courtesy of Borough of Poole, on the run-up to Christmas:
Dates and locations to be confirmed.
Sherborne
FREE parking in all Council car parks in Sherborne every Monday in December!
Swanage
Free Parking for Christmas shopping will be available in the Town Council's North Beach Car Park, From 1st November until after new year.
Parking at Broad Road (above the Pier) and Main Beach (off Victoria Avenue) long stay car parks, cost just £1 for the day during December.
Wareham
Dorset Council and Wareham Town Council will not be charging a fee to park in their car parks on the following dates:
Saturday 7th December (Small Business Saturday), Saturday 14th , Saturday 21st.
Eligible car parks: Bonnets Lane (East and West), St Johns Hill, Connegar Lane, Rempstone Centre, Streche Road , Howards Lane and The Quay (once the market has left the site).
Weymouth
Weymouth has free parking on the following dates and following car parks:
Saturday 7th and Sunday 8th December (Small Business Saturday 7th December)
Saturday 14th and Sunday 15th December (Victorian Christmas Fayre and Chase the Pudding weekend)
Satuday 21st and Sunday 22nd December (Last weekend before Christmas)
Thursday 26th December (Boxing Day sales)
Saturday 28th and Sunday 29th December (Christmas sales)
There is no need to pay and display a parking ticket on these dates.
All other terms and conditions including maximum stay restrictions are applicable to each car during this time.
Parking for Christmas Shoppers will be free in the following car parks:
Pavilion (Both Main and Forecourt), North Quay, Governors Lane, Cosens Quay, Harbourside, Melcombe Regis, Park Street, Royal Yard, Swannery
Note: On-street parking charges will still apply during this period.
Updated: 9th December 2019