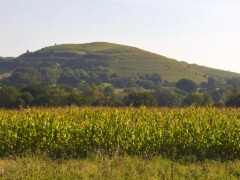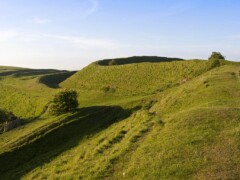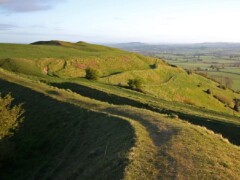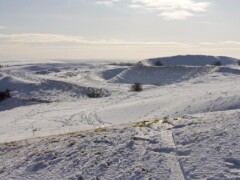 Description and Information
Hambledon Hill is a prehistoric hill fort in Dorset, situated in the Blackmore Vale five miles north of Blandford Forum. The hill is a chalk outcrop, on the south western corner of Cranborne Chase, separated from the Dorset Downs by the River Stour.
Its earliest occupation was in the Neolithic when a pair of causewayed enclosures were dug at the top of the hill, one smaller than the other. They were linked by a bank and ditch running north west-south east. Two long barrows, one 68 metres in length, also stood within the complex and a third enclosure is now known to underlie later earthworks. In all, the area of activity covered more than 1 km². Excavations in the 1970s and 1980s by Roger Mercer produced large quantities of Neolithic material. Environmental analysis indicated the site was occupied whilst the area was still wooded with forest clearances coming later, in the Bronze Age.
Iron Age Hill Fort - Location
Hambledon Hill, New Field Lane, Blandford Forum DT11 8QR