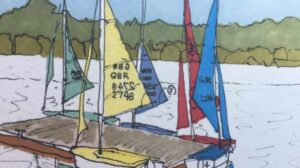 AndyKnillArt at The Courtyard Studio
Offer Description
Andy is a self taught artist. His philosophy is Art for Fun and to match that he is always willing to share ideas and techniques with the pen based art he draws with anyone of all ages.
When social distancing eventually allows he will reinstate his art for fun table in the shop on his shifts to draw with visitors.
This is an ongoing offer and is not time limited – Andy works Monday, Tuesday and Saturday every week and Wednesday on a two week on / off cycle. Contact to check he will be in store.
Discount
FREE arty ideas and techniques
Address
The Courtyard Studio, Unit 7, Tilly Mead, Commercial Road, Swanage, Dorset BH19 1DF