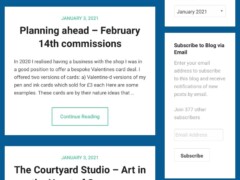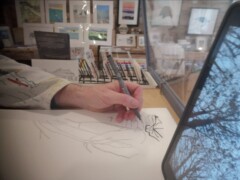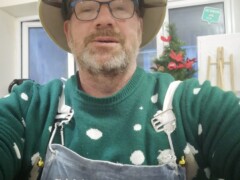 Unit 7, Tilly mead, Swanage, Swanage BH191DF
---
Don't forget to mention inDorset.com when you contact
Description and Information
AndyKnillArt
Andy started his art business in January 2017 after moving to Purbeck, Dorset. Since then he has developed his style working in pen and markers on a range of subjects but the majority of his work is Purbeck based.
Andy sells postcards for £0.50 up to large original drawings for £250. He believes that 'Art for fun' is a key approach, he started drawing to help his own mental health. In 2019 he started to co-tenant a shop in Swanage with a fellow Swanage artist – 'The Courtyard Studio – Art in the Heart of Swanage' is his base to work and sell his art.
He is active on social media posting his own photos that he uses for his work and also has two websites – a blog at http://Www.AndyKnillArt.com and an online shop at https://www.AndyKnillArt.shop
If you meet Andy watch out for his hand drawn pith helmet and boiler suits, he is difficult to miss.
The shop reopens to the public on Monday April 12 and Andy works on Monday, Tuesday and Saturday every week from 10 to 5.
Wednesday – a two week on and off pattern, Andy restarts his shifts on Wednesday April 21 – if unsure just contact to check.
The shop is open with the other artist on the other days of the week.
Please note from April 12 to May 17 – only one household bubble in shop
at a time in line with government guidelines
Monday
10:00 am - 5:00 pm
Tuesday
10:00 am - 5:00 pm
Wednesday
10:00 am - 5:00 pm
Thursday
10:00 am - 5:00 pm
Friday
10:00 am - 5:00 pm
Saturday
10:00 am - 5:00 pm
Sunday
10:00 am - 5:00 pm
Events Run By This Listing
Teaching and Online Classes
FREE arty ideas and techniques