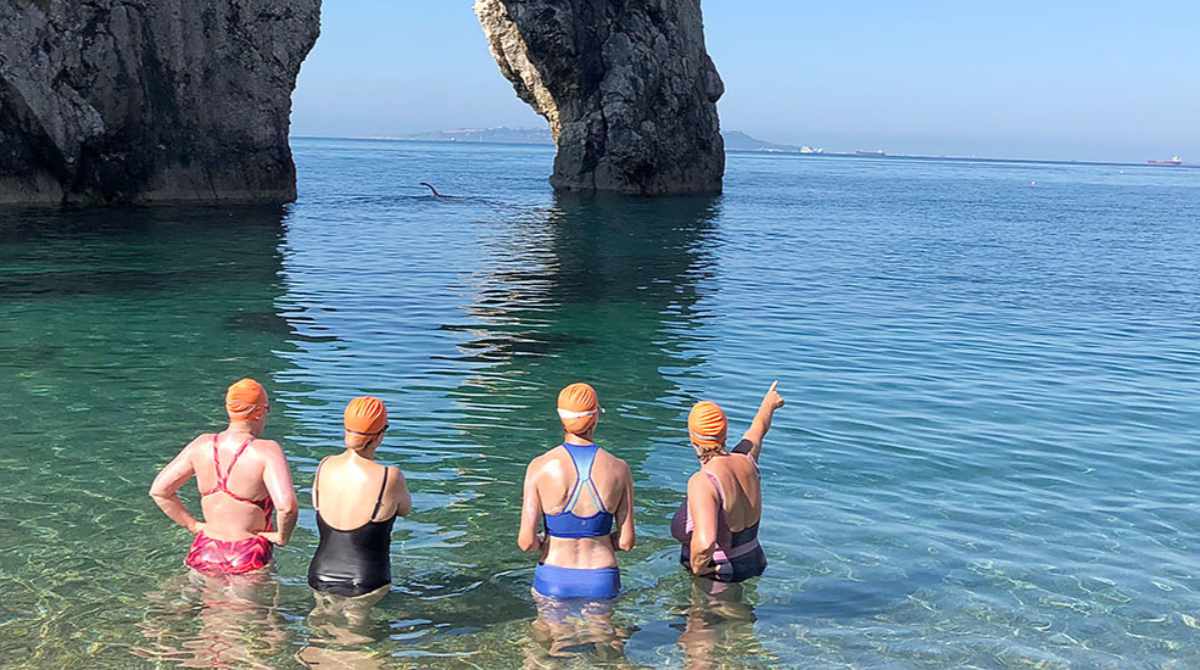 ---
---
Wild Swim the rocky coves of the Jurassic Coast in Dorset
Details
Refresh the soul with wild open water swims, open fires and Tipi action.
From our base in Swanage take a series of guided open water swims in a variety of local beauty spots, such as Durdle Door, Lulworth Cove, Dancing Ledge and the lagoons and caves of Winspit Cove.
Saturday's adventure involves swimming at two stunning locations, usually Warbarrow followed by Winspit but this depends on the prevailing weather. Warbarrow is a beautiful shingle beach where you can get to know your swimming coaches and get a feel for the weekend. Once you have a healthy dose of swimming and flapjacks, we walk back to the landrover where we provide a picnic of wraps filled with freshly baked ingredients, fine cheese and tasty treats. It's then back in the landrover and a short drive to the second swim of the day. This is usually Winspit, a stunning and atmospheric cove, vastly different to the first swim but every bit as good. This location is conveniently adjacent to one of the finest pubs in Dorset, the Square and Compass. A well-earned drink in the pub garden is followed by a short drive back to the campsite.
Back at our Tipi camp enjoy a hearty Ribolita an open fire and a chance to stargaze. Feel free to bring something to drink to keep you warm around the fire but remember to bring some warm clothes as the clear nights can be chilly.
On Sunday it's an early start but an amazing experience. You'll never forget this morning swim at Durdle door and the nearby Man O'War beach.
It's then time to wind down. We drive you back to the campsite for a leisurely lunch after which it's time to head back to reality.
The Swimming
A series of short sheltered swims, 30 mins maximum. No experience of open water swimming required, but ability to swim around 20 lengths in a pool recommended. This trip also includes coastal walks on rough ground. Our coaches are top class teachers who nurture rather than shepherd you as you swim. If you want to improve your stroke or confidence they will be there to help. This isn't a long-distance event, this is all about expanding your ability and horizons.
What's included
– Guided swims with supportive coaches.
– All meals at the campsite. Picnic lunch and supper on Saturday, a light breakfast and brunch on Sunday.
– All camping equipment including an individual tent, sleeping bags (with spares if you tend to get cold at night) and sleeping mats.
What to bring and what to wear
– Swimming stuff, including goggles and swim hat. Wet suit optional. Bring warm clothes, a hat and towel to put on when you get out.
– Warm clothes for the evening (it can get surprisingly cold on clear nights), waterproof jacket, overnight bag.
For more information and to book, please visit website (see link above).
---
---
Location
Steeple Leaze Wood
Steeple Lease Farm, Steeple with Tyneham, England, BH20 5NY United Kingdom
GET DIRECTIONS
---
Other Events near this Venue/Location
No events in this location
---
Disclaimer: Event details are believed to be correct at time of publication. Please check with the event organiser if you have any questions.
If you believe an event is incorrect or no longer happening, please let us know.
---
Listing Nearby