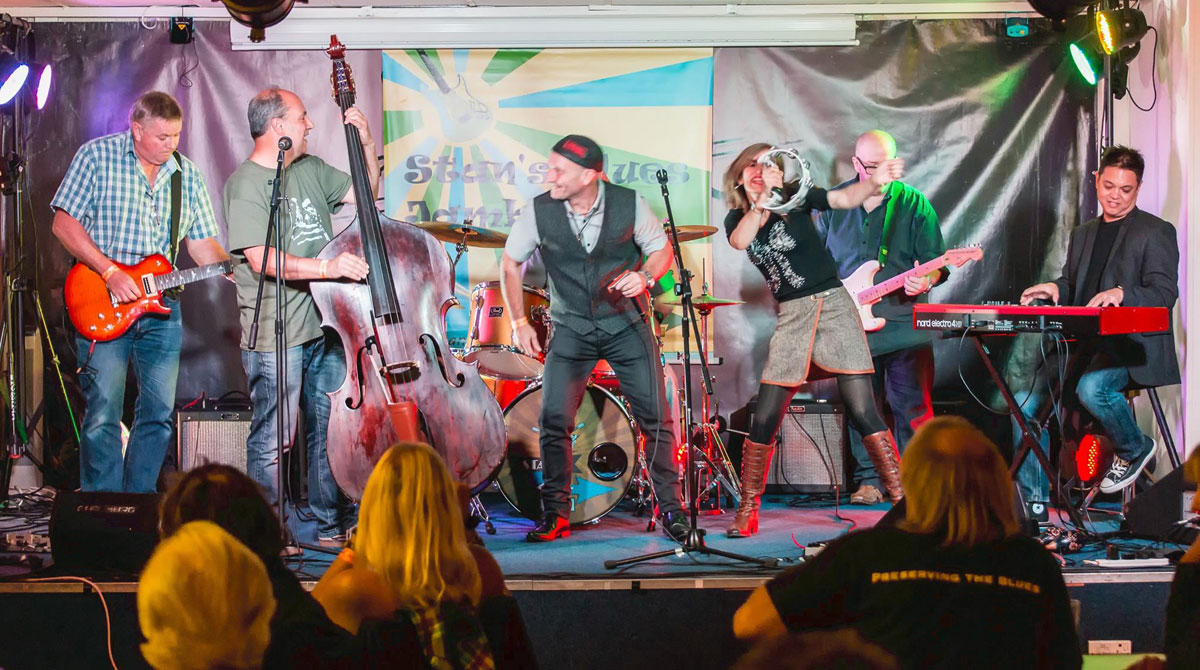 ---
---
Swanage Blues Festival October 2020
Details
PLEASE NOTE – THE OCTOBER FESTIVAL MAYBE CANCELLED – PLEASE CHECK WEBSITE FOR UP TO DATE INFORMATION
60 Great Gigs, 40 Top Bands, 15 Indoor Venues
The Swanage Blues Festival brings together an amazing collection of Blues Musicians, Fans and Friends for a weekend of Jams, Open Mics and Headline Performances that will have you coming back time after time
Paul Dubbelman, music photographer
Swanage Blues is a not for profit organisation.
Every March and October thousands of music lovers come to Swanage Blues Festivals, where over 100 musicians perform at 60 events in 15 indoor venues. There's superb music, drinking, eating, dancing, fun and laughter across the town and beyond, starting on Thursday evening and going on till late Sunday evening.
Regular fans say they love the friendly atmosphere and the wide range of electric and acoustic music available in the pubs, restaurants and hotel bars. Aspiring performers can take part in the Electric Jam sessions, Open Mic sessions and Stan's Blues Jamboree too.
Photo of a jam session by Paul Dubbleman.
---
---
Location
Various Locations in Swanage
Hight Street, Swanage, Dorset, United Kingdom
GET DIRECTIONS
---
Other Events near this Venue/Location
Swanage Blues Festival October 2020

1st Oct 2020 - 4th Oct 2020 - | All Day

Various Locations in Swanage, Swanage

31st Jul 2021 - 7th Aug 2021 - | All Day

Various Locations in Swanage, Swanage

---

Disclaimer: Event details are believed to be correct at time of publication. Please check with the event organiser if you have any questions. If you believe an event is incorrect or no longer happening, please let us know.

---

Listing Nearby