Most Dorset Events have been Cancelled or Postponded!
Always check with the Event Organiser for more information.
For advise on the coronavirus (COVID-19) outbreak, please follow the
public health guidelines from www.gov.uk/coronavirus.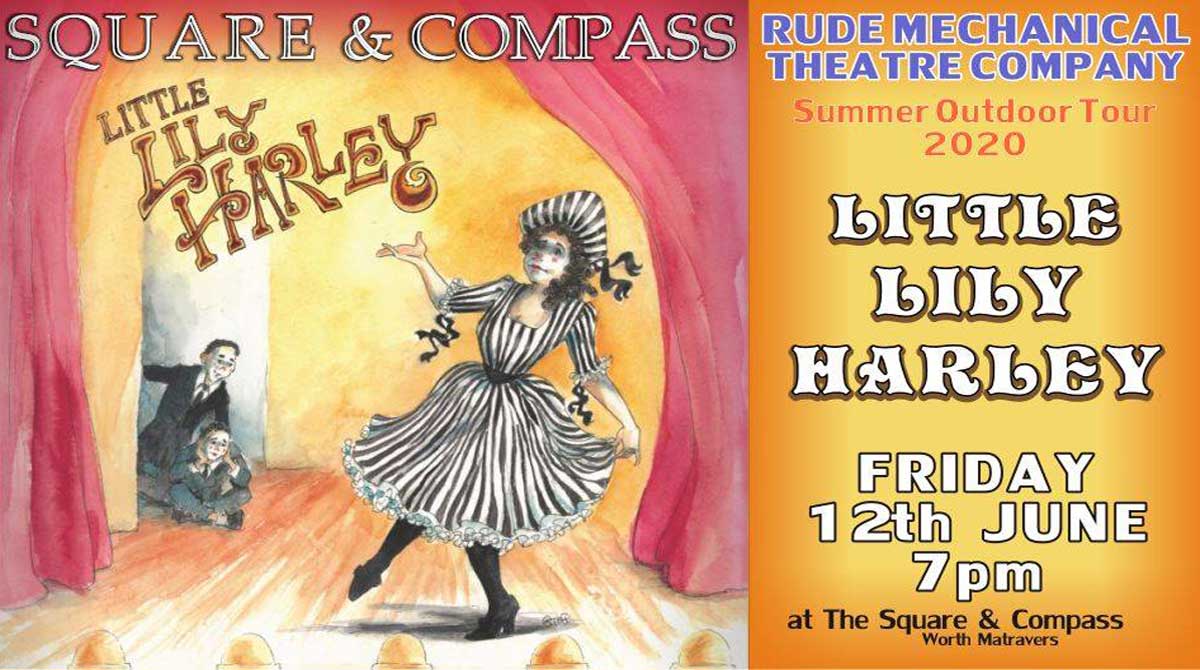 ---
---
Rude Mechanical Theatre Co: 'Little Lily Harley'
Details
A brand new show for our 2020 Summer Outdoor Tour – 'Little Lily Harley'.
From living on the streets of Lambeth and in a home for destitute children, he rose above appalling adversity to become the greatest film star ever. How is that possible?
The new Rudes show is the extraordinary story of Charlie Chaplin's childhood and how he made comedy out of tragedy, from illiteracy to beauty and the visually poetic.
Full of music hall, poetry, playground clapping rhymes and slapstick, it will make you cry one minute and howl with laughter the next.
Buy tickets here: Little Lily Harley, The Square & Compass

New theatre inspired by the Commedia dell'Arte
The Rude Mechanical Theatre Company has been creating original theatre inspired by the traditions and style of the Commedia dell'Arte since 1999. We work outdoors in the summer months mainly in villages and also a few towns across Southern England from Kent to Devon creating strong relationships with communities. We believe in the power of storytelling to bring communities together, giving a reason for people to be together and share in an experience which stimulates the mind, heals through laughter, and educates through thought-provoking subject-matter. Although our style is rooted in a genre which is hundreds of years old the stories always reflect what matters to people now. We also tour indoors occasionally in the winter and it is our aim to do more of this in the future.
Links: www.therudemechanicaltheatre.co.uk / www.facebook.com/rudemechtheatre
"Commedia dell'arte – the tradition that gave us Mr Punch and the foundations of pantomime – is a rare discipline, even in Italy. But the Rudes have made it their own" ~ Jenny Gilbert, The Independent
"It's a pleasure to see a company so expertly making good 21st century theatre firmly based in an old art form which is such an important strand in the history of our industry" ~ The Stage Magazine See less
---
Location
The Square and Compass
Worth Matravers, Swanage, Dorset, BH19 3LF United Kingdom
GET DIRECTIONS
---
Other Events near this Venue/Location
---
Disclaimer: Event details are believed to be correct at time of publication. Please check with the event organiser if you have any questions. If you believe an event is incorrect or no longer happening, please let us know.
---
Listing Nearby