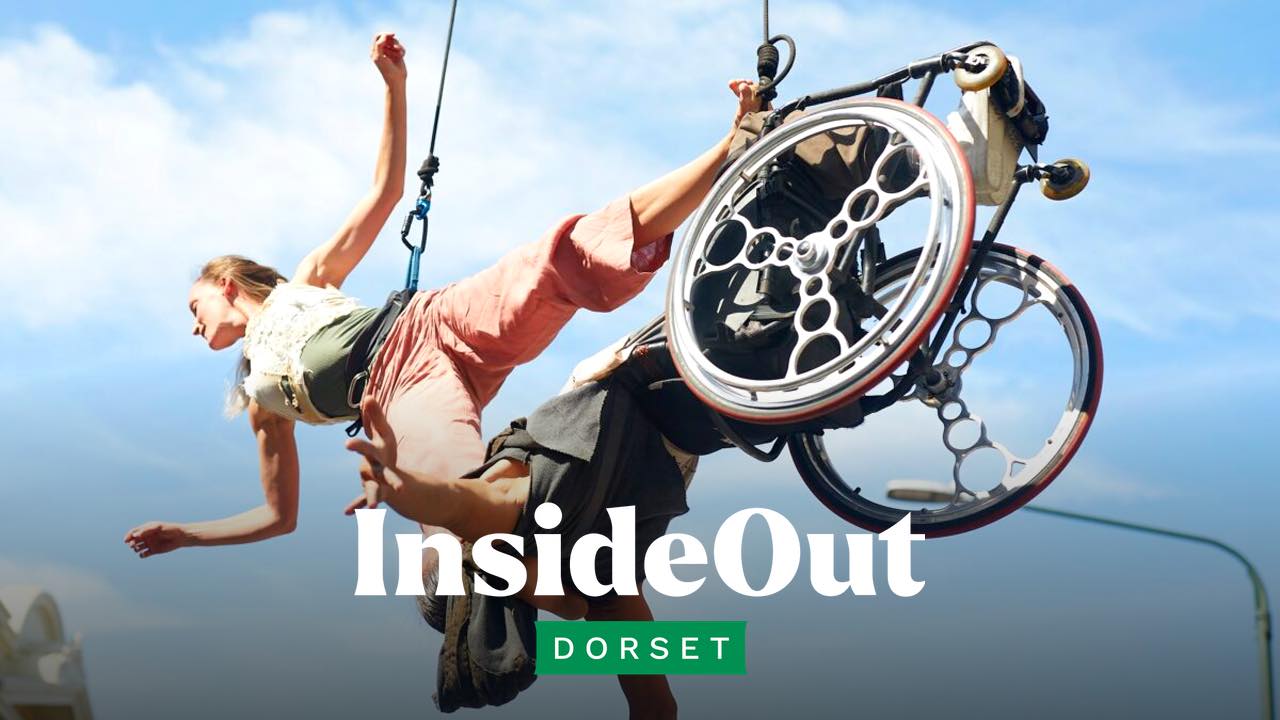 ---
---
Date: Fri, 15th September 2023 - Sun, 24th September 2023
Time: All Day
Location: Various Location in Dorset, Dorset
Phone: 01305 260954
Email: info@activateperformingarts.org.uk
Booking Required: No
Price: £Free
---
Inside Out Dorset
Details
September 2023 will see Activate Performing Arts' biennial outdoor arts festival, Inside Out Dorset, return to entertain and celebrate Dorset. From 15th to 24th September 2023, Activate Performing Arts will present performances, workshops, installations, parades and more to audiences from the county and across the UK. Featuring international, UK and local South West artists at five sites in Dorset, Inside Out Dorset 2023 will mount two World Premieres and five UK Premieres. The festival has run since 2007 and in September 2021 attracted over 28,000 people.
The festival aims to remove traditional barriers to accessing the arts and encourage people to discover and appreciate some of the unique places across the county. At the core of Activate's programming is the ethos that anything is possible and everyone is invited. The festival works across both urban and rural locations. In addition to the main programme, Inside Out Dorset's engagement activities aim to attract new audiences to areas of the county and communities which have been shown not to regularly visit professional arts or green spaces. The festival also aims to support Dorset's tourism sector in the post-summer 'shoulder' season.
Activate has cultivated relationships with Dorset Area of Outstanding Natural Beauty (AONB) and The National Association for AONBs, along with a set of European partners with complementary interests in the relationship between the landscape, artists, land stewards and the climate emergency. Many Inside Out Dorset events take place in natural landscapes, raising awareness of their environmental importance, and Activate's planning ensures there is no negative environmental impact.
The climate emergency sits at the heart of events at Moors Valley Country Park and Forest, managed by Forestry England and Dorset Council. This 800-acre site caters for visitors of all ages and will see spectacular art installed through the site. Two of the pieces that visitors will encounter at Moors Valley are created by Artmusic founder Helen Ottaway. Installations Lachrymae and Saeflod will adorn the woodland canopy creating an immersive site-specific accompaniment to every visit. The composer, pianist, installation artist and curator formed Artmusic in 1999 to produce collaborative and participatory work. In 2014 Helen's Lachrymae
was commissioned by Inside Out Dorset and Dorset AONB to be presented on the South Dorset Ridgeway. Such was the success of the piece, she has been asked to present it again at this year's festival. Landscape, water and nature provide inspiration for Ottaway, and are recurring themes in a style that is predominantly minimalist with influences from folksong and English pastoral and church music traditions. For the new commission, Saeflod, Helen collaborates with a graduating student from Arts University Bournemouth.
Another festival highlight, the unique Serving Sounds from The Working Boys Club will perform at the festival's Poole and Wimborne sites, which focuses on circus acts and international talent. This multi-sensory sound installation creates connection through music. The installation is an interactive work, playful and joyful with spaces for up to four people of all ages to interact with the bar at any one time, each experience lasting up to the length of a song. The Working Boys Club is made up of identical twins Jason and Adam Dupree, who make and create work by mixing their experience in the arts with their past lives as tradesmen.
The festival's Wild Woodbury site at Bere Regis will welcome visitors to enjoy varied programming including workshops, talks and local food vendors for a festival feel. The site, which is owned by Dorset Wildlife Trust, is undergoing a process of rewilding and will provide a unique location for Inside Out Dorset to work alongside Dorset Wildlife Trust and Dorset AONB. One element of the Wild Woodbury programme comes from French artists De Chair et d'Os, who create site-specific projects. They will present Five Seasons, a piece about rituals and our connection to the earth. These hybrid, multi-faceted art projects from artistic director, Caroline Melon, take on a variety of forms, adapting to every new situation, but drawing on recurring themes and working processes. At Wild Woodbury, a clay oven will be built as part of workshops with members of the public ahead of the performance days in September. The oven will be used during the performances as part of the ritual of foraging and sharing food.
The finale weekend of Inside Out Dorset will see a spectacular parade of light and music weave through Weymouth led by Transe Express' Poupées Géantes. Three giant dolls will glide magically through the crowd, with the voices of three opera singers transforming the street into an opera house. The singers will perform beloved classical pieces by composers such as Bizet, Mozart and Verdi, their beautiful voices contrasting with the rhythmic backing from Les Tambours that creates a powerful sound combining percussive traditions from around the world.
Various Locations around Dorset, including:-
Moors Valley
Wimborne
Poole
Bere Regis
Weymouth
Visit the website (see link above) for full details.
---
---
---
Other Events near this Venue/Location
Sorry, there are no Events scheduled at Various Location in Dorset ~ please check back soon!
---
Disclaimer: Event details are believed to be correct at time of publication. Please check with the event organiser if you have any questions.
If you believe an event is incorrect or no longer happening, please let us know.
---